Electric Dog Fence
Installations Athens GA
Installing your Pet Stop Electric Dog Fence System involves four steps that our skilled Pet Stop installers are happy to explain in more detail. They'll get you started from day one by assisting you throughout the process. Be sure to call us out today for a free on-site evaluation. We can provide Guaranteed Price and Product right over the phone 404-536-6770 and have your Electric Dog Fence installed in three days.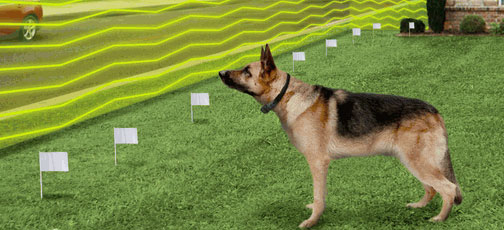 Adam, Matthew, Jason and Mike are your local Pet Stop dealers
1.) Bury the commercial grade 14 gauge/50 mil. Jacketed life time boundary wire in the location ideal for your specific yard and dog. We will walk the area with you and explain exactly what, where and how the wire will be installed. We will have your utilities marked, activate your sprinkler system and bury your wire 6″ deep protecting it from the work of your landscaper and lawn man. We will leave your yard beautiful when we leave.

2.) Install the Digitally Modulating Pet Stop signaling OT-300 Transmitter and all other Computerized Electronics in a convenient location in 3-4 hours

3.) Fit and customize your pet's receiver with the program that's best for you and your pet's breed, personality and disposition. We will flag your new fence and train your dog with you. You will receive a complete orientation to your new Pet Stop Underground Dog Fence before we leave your home. The installation usually takes 3-4 hours for a one acre property. You pay nothing until the system is installed to your specifications. We do not collect a deposit like other companies.

4.) Perform the initial training session, occurs the day of installation, to ensure you and your pet are properly introduced to your new dog fence system. We will not leave until all your questions are answered, and you are ready. We are available by phone and in person should you have any questions or concerns after the Professional Installation. We will come out at no charge when ever needed! We will not collect payment until you are 100% Satisfied.
The Installation Process – The Dog Fence Experts