Best Electronic Dog Fence

by Pet Stop® Brand
PROUDLY INSTALLING ELECTRIC DOG FENCES FOR 20+ Years in North Western SC and all North East Georgia. Adam, Mike and Matthew Sinteff are happy to answer your questions right now! Please give us a call – In the North West SC area 864-626-4994 – In North East GA area 404-536-6770
Pet Stop™ Dog Fence Systems and Perimeter Technologies combines the most technologically advanced fence on the market today with the value of a 20 Year family owned and operated business. Mike, Adam, Matthew and Perimeter Blue Tooth™ Technologies, Inc. offer Commercial Grade Electronic Computerized Dog Fence Products with 100% guaranteed installations, and life-time boundary wire, the most Advanced Digital Equipment, accompanied by our Gentile Steps™ Dog Fence Training System. We also offer the strongest Manufacturer's Warranty/Guarantee in the industry called "Ultra Care™ Coverage".
INDUSTRY LEADING TECHNOLOGY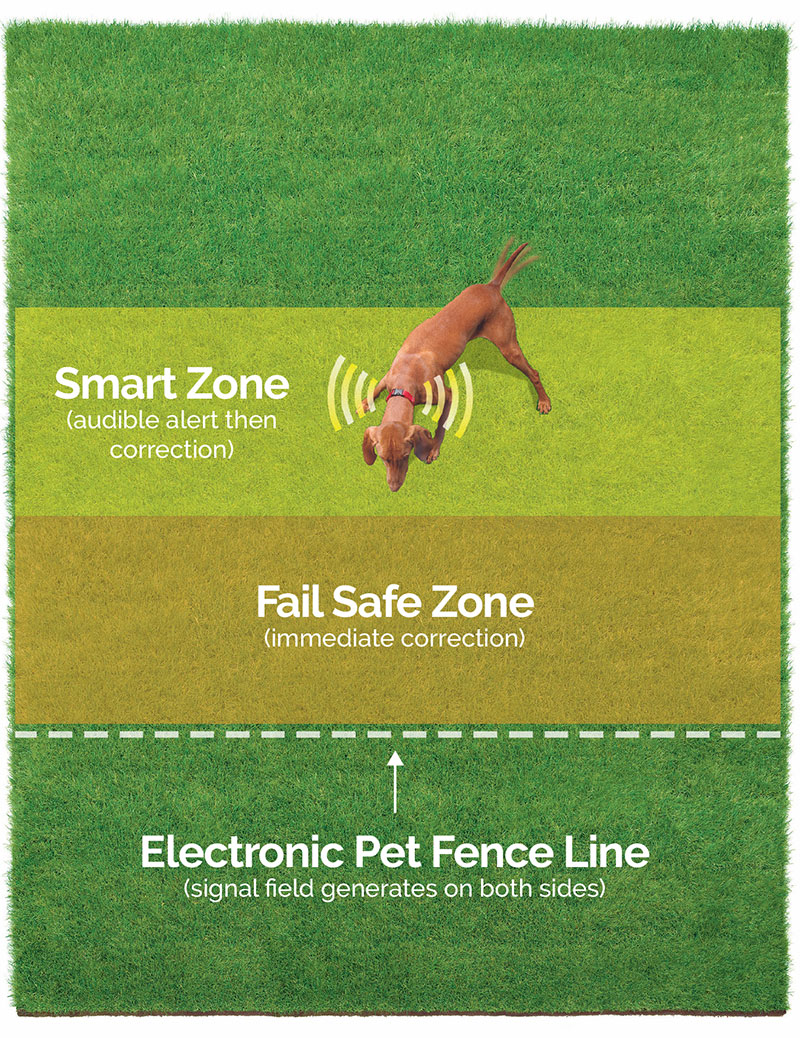 The Pet Stop Computer System Transmits, from the OT-300 Computer, activating your dog's Link™ Blue Tooth Receiver Collar in 80 mil-seconds. "Faster than you can blink your eye" Activation Speed Guarantees your dog cannot breach your Pet Stop Hidden Fence. Giving you the safest, fastest, most secure and most customizable options in the Electronic Dog Fence Industry. The boundary wire (Electric Pet Fence Line) is buried out of sight about 6″ deep to preserve the beauty of your landscape. In the Smart Zone™, this system, with over 8000 programing options, can be programmed for a variety of progressive settings including the warning time and how the correction is initiated. Dogs with high prey drive and high ball drive, who insistent on running away never breach. Pet Stop's exclusive Fail Safe Zone™ instantly activates a correction at the highest preprogrammed (Smart Technology™) level, 6v, 7.5v, 12v ensuring that your pet – no matter what breed or temperament – stays safe in your yard. Our Containment is 100% Guaranteed or your money back.
Adam, Matthew, Jason and Mike are Technology Specialists, with not less than 10 years experience installing the Pet Stop Underground System. Customizing your dog's settings based on your pet's size, breed, personality and temperament. Dogs 2.5lbs to 189lbs are safely contained. We install over 500 Hidden Dog Fences per year. We are American Kennel Club Certified Trainers. Our Patented Gentle Steps™ Training makes your pet's adjustment to his new exciting yard as quick and gentle as possible. Call Now to set an appointment 404-536-6770 or 864-626-4994. Installations in 72 hours / +300 Reviews 4.9 out of 5.0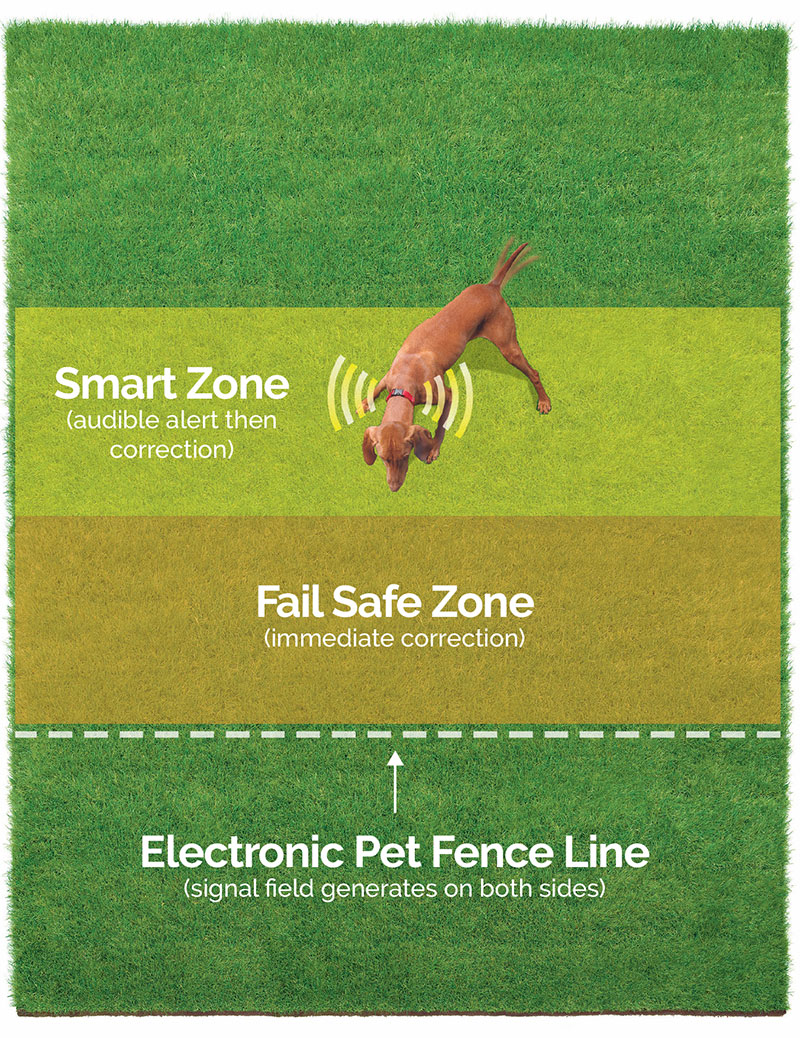 OUR COMMERCIAL QUALITY SYSTEM
Our Commercially Manufactured System Really is Superior — giving you Complete Assurance that your pet will be Safe and Secure. Our system includes a
Computerized Receiver weighing in at only ¾ Ounces, Diagnostic, 25 Year Recharging Life, Patented Comfort Probes™ and is 100% Water Proof, a Digitally Designed Computer Transmitter produces a Signal Field Stronger, More Accurate and Faster than AM or FM Transmissions. Pet Stop Brand is, "Safer By Design for Greater Peace of Mind™" Providing Best-in-Class Manufacturer's Warranty called ULTRA CARE™ Lifetime Guaranteed, Transferable, Containment and Electronics Warranty. We will Contain Any Dog on Any Property or We Will Refund 100% of Your Purchase Price!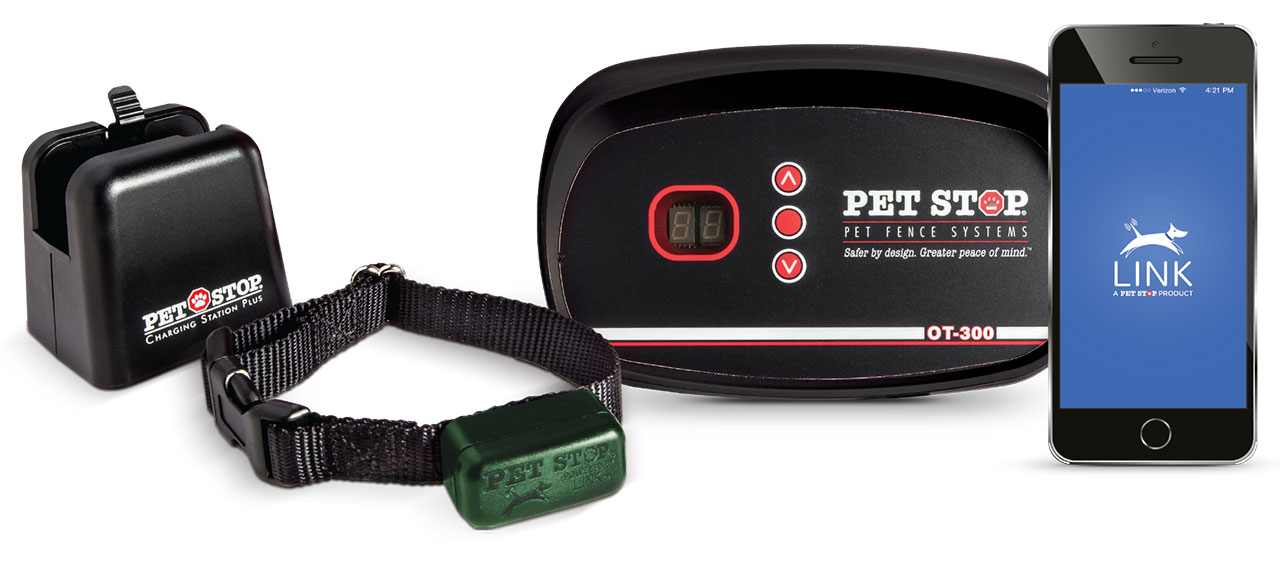 Eco-Lite™ System w/Link™ Blue Tooth Technology
The Eco-Lite Plus™ Receiver is State-of-the-Art in Electronic Dog Fence Technology. No more Invisible Fence Brand batteries to replace every 3 months Or Dog Watch Battery Collars Weighing 6 times the weight of the Pet Stop Brand Link Receiver . It's the first Professional-Grade Receiver that permits 25 Year Recharging, for 2-3 Hours, Lasting 4-6 weeks on each charge. It's smallest, lightest and features a Pet Stop App with Blue Tooth Control for your Smart Phone. Link™ comes with a Pet Stop Charging Station Plus™ (Diagnostics with a 7 Point Testing Sequence that checks your Link Receiver for faults every time it's charged), giving you Peace of Mind that you'll discover any problems before your dog does.
One of the many features of the Eco-Lite Link Receiver is its versatility. Previously containing highly determined dogs required replacing the receiver, scheduling a service call with your dealer or mailing your dog's collar to their office, but no longer. With Pet Stop Link™ Blue Tooth Collars, it is as easy as changing a setting in your Pet Stop App; thanks to Blue Tooth Technology you now have complete control over your Pet Stop Electronic Dog Fence and your dog's Link Receiver at your fingertips. Just another reason to choose Pet Stop Brand. Of course, the Link Blue Tooth comes standard with Ultra Care Plus™ coverage.
Charging Station Plus™
Patented technology that tests your receiver every time it's charged giving you Peace of Mind that you'll discover any problems before your pet.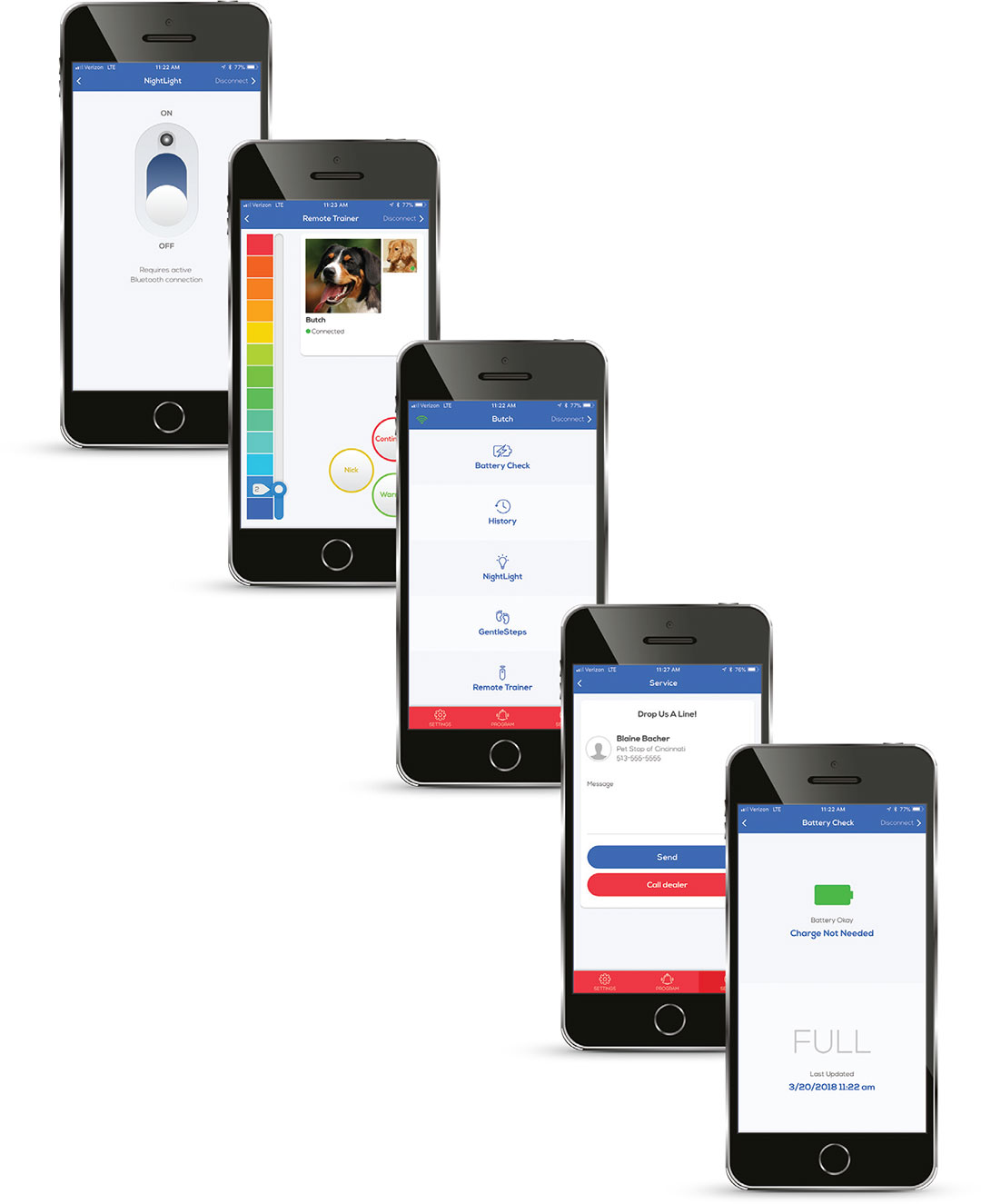 LINK TECHNOLOGY:
Imagine a Pet Stop Blue Tooth System that actually Monitors your Pet's Behavior and Sends you Notifications on your Smart Phone's Link App if a setting needs to be changed, alerts you to your dog's behavior in his fence or that over the next 5-7 days your Link™ needs charging. You make the needed adjustment without a Service Call or having to mail the collar to the dealer's office to make a programing change. No other company offers Technology Like Pet Stop. Link™ is simply amazing. You Control Everything! It's all there at your fingertips.
The Night Light Feature allows you to remotely activate a light allowing you to track your pet at night more easily. A Bright Blinking Light Flashes every 2-3 Seconds! Simply turn your Night Light on before you let your dog out into his Pet Stop Fence and keep and eye on him while he is out in the yard.
Our integrated Remote Training Feature allows you to use your containment collar and your Smart Phone as a Training Collar; That's Right, FINALLY!, Two Collars in One. The industry's only Professional System combining both features into one Receiver, while giving you separate correction level control for your fence settings also. This feature is great to help break any type nuisance habits like jumping, counter-surfing and excessive barking to name a few. Corrections Can be made up to 125 feet depending on your Smart Phone's Blue Tooth Range. On the day of installation, our Team will help set this up for you.
Link Technology can also control your Dog's Correction Level for the Pet Stop Electric Fence out in the yard. You have complete control of your Underground Fence System right at your fingertips. Gentile Steps™ Training allows you to control the correction value while your dog is in his Training Phase. Only Pet Stop offers a Gentle Approach to Training your pet. Your Installer will show you how everything works so you'll know exactly what to do! This Really is Fence Training Made Easy.
Blue Tooth Link™ takes all the worry out of Dog Fence Ownership by using Bluetooth Technology to keep you, your pet, your Dealer and the manufacturer all connected. Not only can Link keep you up to date on your pet's activity and a complete system status, but it also link's back to your Dealer and the manufacturer, giving you Peace of Mind that we are all working together to keep your pet safe. The beauty of Linking everyone together is having the ability of changing a setting if needed. Your Dealer can even simply send updated program settings to your phone, you connect your phone to the pet's collar and the new program transfers from your phone to the dog's collar. Access to all of the system features is right there at your fingertips. Invisible Fence Brand, Dog Watch Brand and most Retail over the counter Brands or through Amazon are all manufactured in China and lack this American Technology manufactured right into your Pet Stop Fencing System. No more paying for a service call or mailing your dog's collar off to be programed.
Communicate with Your Pet Stop of North Georgia, Inc. Dealer Real Time – With just a simple click you can contact us for any reason to obtain Service, Ask a Question or Give Us Feedback about your system by email, phone call or by text. Link™ Blue Tooth technology makes it all so easy. This technology is not offered by Invisible Fence, Dog Watch, Dog Guard, or Pet Safe Brands
With Link™ Blue tooth Apps, you'll always be able to check the battery level in your receiver with an easy to read visual. Link has a closed battery system, making it 100% water proof for pool, river and lake access, that recharges for up to 25 years, charges lasts 4-6 weeks, recharges in 2-3 hours and is completely diagnostic. When the Link Receiver needs to be charged you'll receive notice on your mobile device in addition to the Receiver's low battery light blinking for up to 7 days giving you plenty of time to charge it. Simply charge your Receiver over night and place the collar on your dog in the morning! No more buying expensive batteries as in the case with Invisible Fence and other Brands.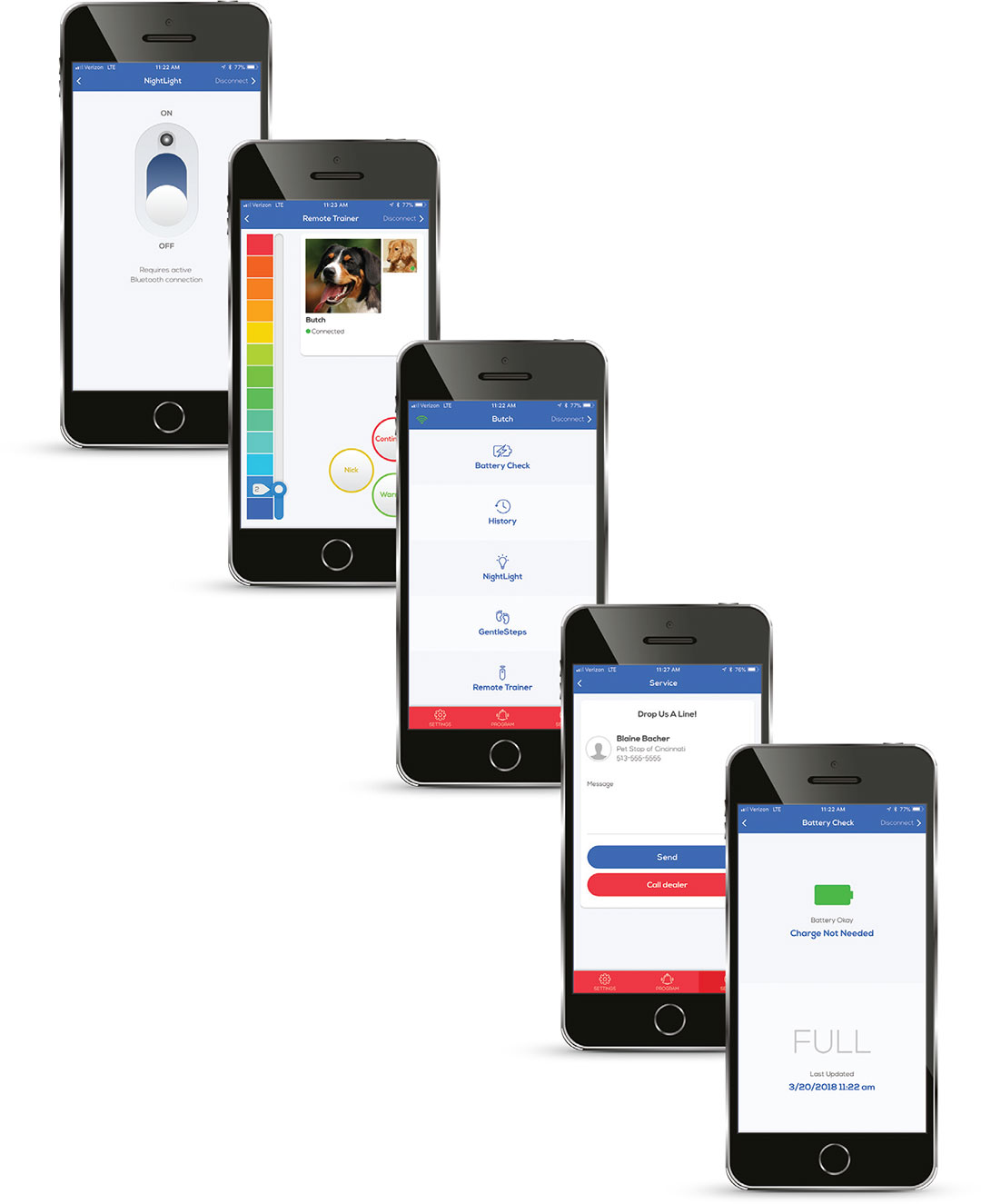 TRANSMITTER / OT-300 Computer
Pet Stop's Electronic OT-300, transmits a digitized signal modulated to activate our Pet Stop dog collar in 80Mil-Sec which is the fastest activation speed in the industry. Our systems are guaranteed to activate correctly 100% of the time and to NEVER falsely activate under any condition. Consumer Digest Best Buy Rates Pet Stop as its #1 Choice. Pet Stop offers Advanced inside your home options also.
100% Cross Brand Compatible Pet Fencing Experts
We're a family run company with over 2 decades of experience. Pet Stop is installing dog fence systems going on our 20th year in the North Georgia, North West South Carolina area. We believe we are the best local choice for your underground dog fencing needs. We know we can't just say it, we must prove it to you every day, on each job, and for each and every dog! We are really BIG on America! Our Products are manufactured, and assembled in the USA 🇺🇸 from imported raw materials. Like Pet Stop Electronic Dog Fence Systems and Plexidor Professional Insulated, Lifetime Dog Doors.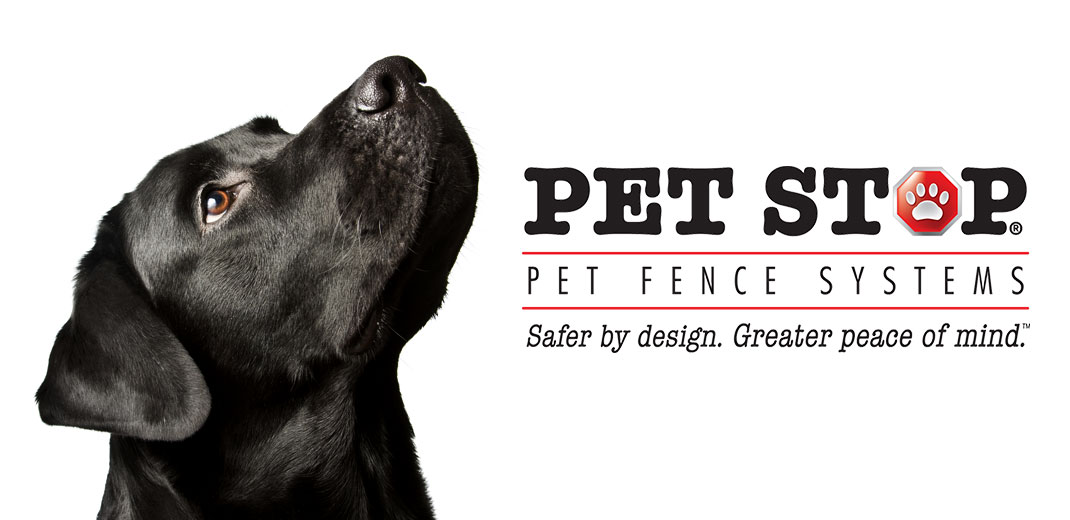 Invisible Dog Fence®, Dog Watch® and Dog Guard Trade In Specials

If you own an Invisible Fence Brand System, or any other electronic dog fencing system, you can upgrade to a Pet Stop® brand hidden dog fence system. Do you need a replacement for your Invisible Fence Mini Lite Collar? Give your pet the safety and security of a Pet Stop® Electric Dog Fencing system! We also have Underground Fence compatible batteries and Underground Fence compatible receiver collars available – contact us today for more information! (404) 536-6770
Why choose a high-pressure, scripted sales routine and deal with a corporation based hundreds of miles from your home, when you could have a local professional who is dedicated to providing you with not only the best in hidden pet containment, but also dedicated to providing a personal sales experience that will suit your needs and not a corporate bottom line.